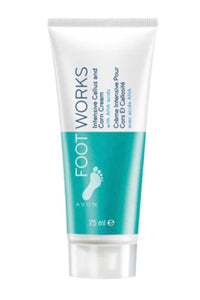 About me:
Want baby-soft feet in an instant? Step right this way and try our Foot Works Intensive Callus and Corn Cream. This triple action cream exfoliates, smooths, and moisturises all in 1 easy step, significantly improving the look of dry, rough, cracked, callused heels. In a hurry? See significant results in just 2 weeks with this easy to use rich and luxurious cream.
Product specification:
• Exfoliating, smoothing and moisturising foot cream.
• With AHAs, glycerine, aloe vera and vitamin E.
• Size: 75ml.
How to use me:
Massage into cracked, callused areas twice a day (and put your feet up, you deserve it).