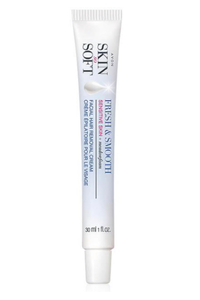 Skin So Soft makes it easy to remove unwanted hair with this facial hair removal cream. This unscented formula contains aloe and meadowfoam oil to be gentle on sensitive skin. Easily remove facial hair without shaving all while moistuizing and smoothing your skin. Tube contains 1 fl. oz. 

BENEFITS
• Easily remove unwanted facial hair
• Leaves skin clean and smooth
• Contains meadowfoam oil 
• Fragrance-free


TO USE
• Gently apply a thick layer of cream over hair to be removed. Do not rub in.
• After 2-1/2 minutes, test a small area
• If hair does not wipe off easily, leave on a few minutes longer
• DO NOT EXCEED 8 MINUTES


WARNING
Although Avon does rigorous testing to minimize irritation, to avoid a skin reaction, be sure to test before each application. Apply as directed, to a quarter-size area of skin where hair is to be removed. Wait 24 hours. If skin appears normal, proceed with entire application.